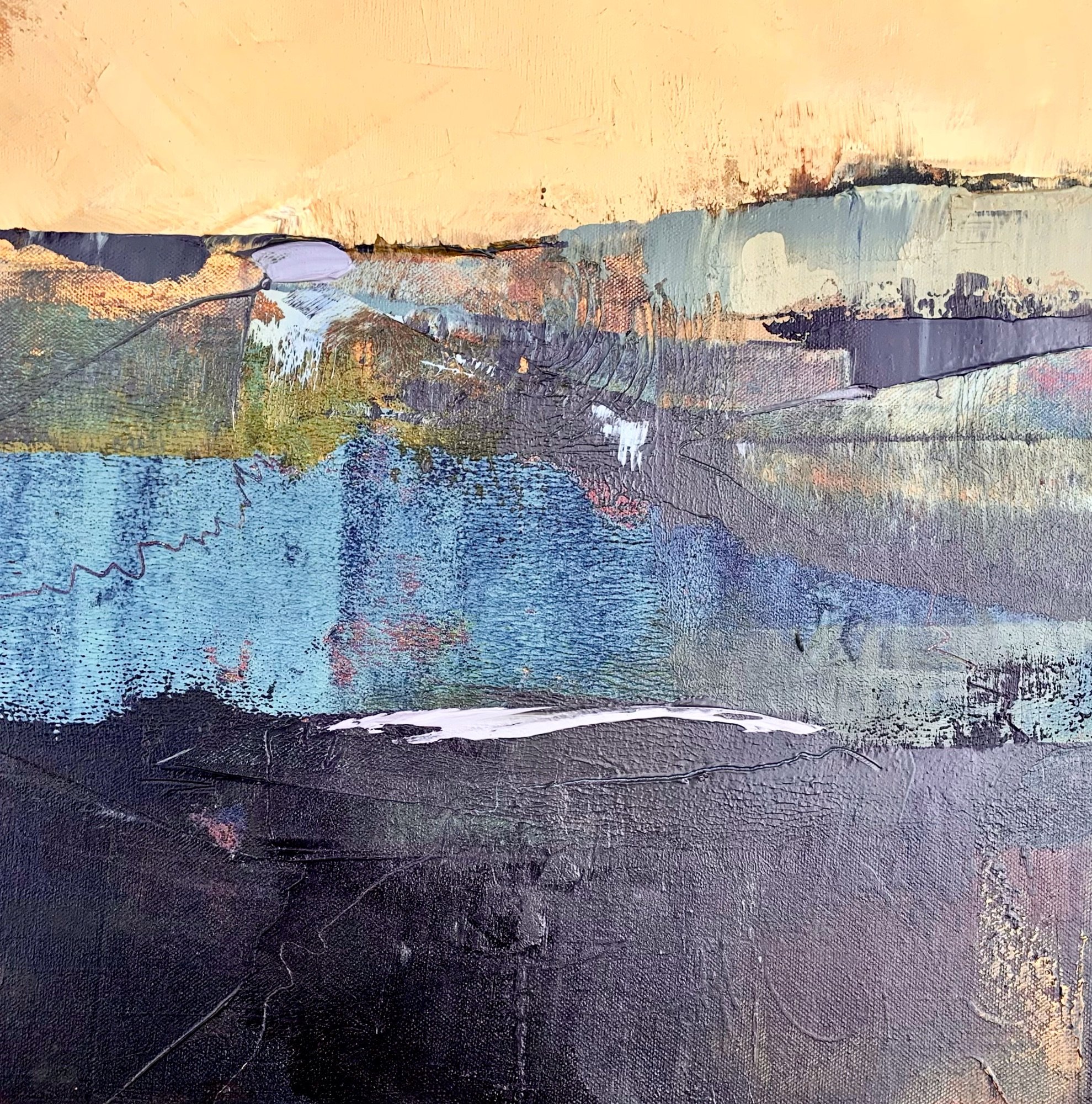 My workplace and methods...
Wild at Heart Studio in rural Lincolnshire is set in a wild garden. There is a timber cabin where I can create my abstract oil paintings if I need space to work with larger pieces. I also work in my little summer house. When work is finished, a small gallery room in the house displays the pictures and this is where I can welcome visitors to view.
Below...the Summer House is my smaller workshop
Two 'playtime' oil paintings...make-believe.
Oils on Arches paper. Created on 8th October
Currently my large Studio Cabin (below) is closed for renovations but I hope to re-open it in 2024 for some more Oils and Cold Wax Workshops.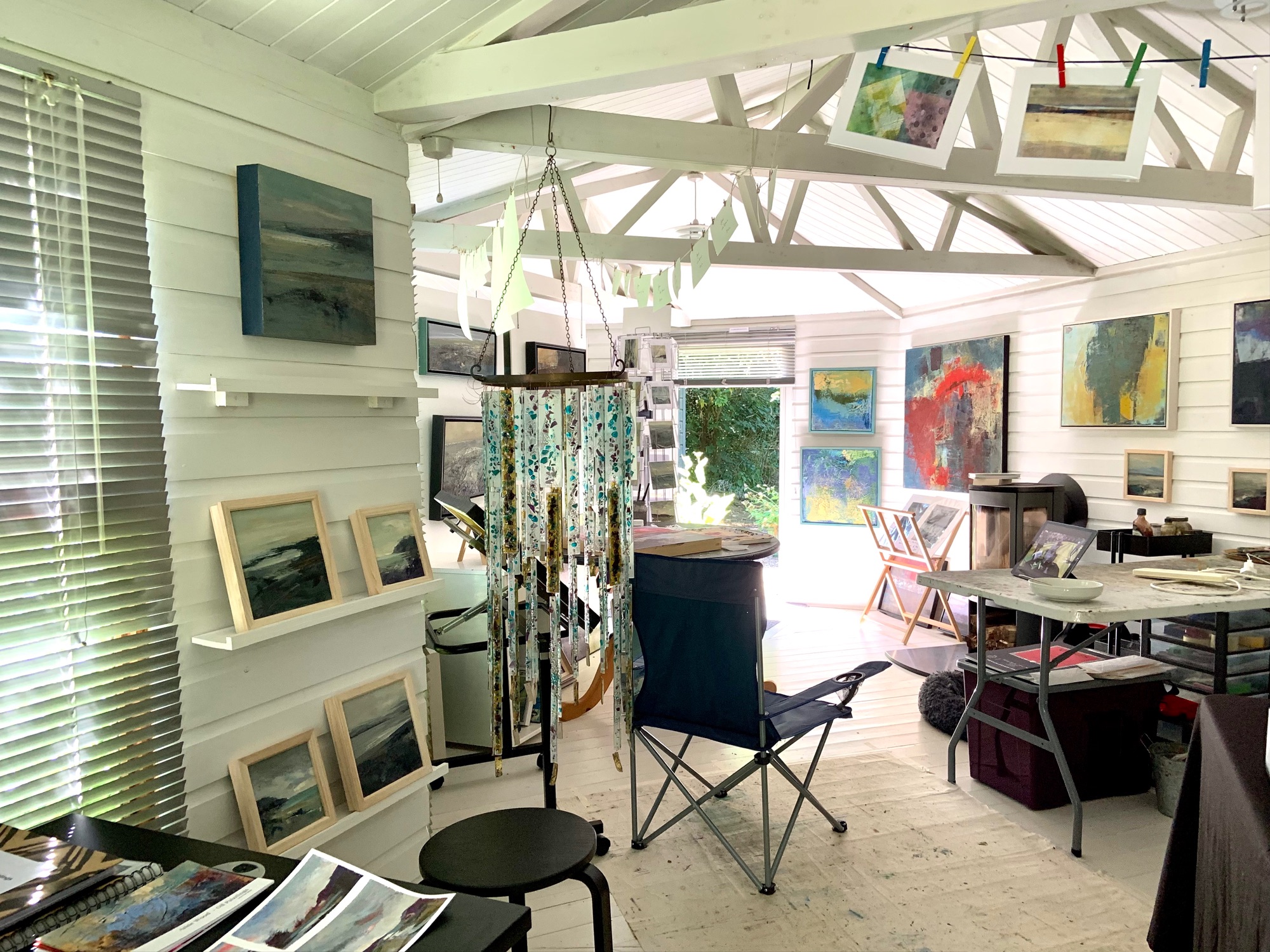 MY PAINTING JOURNEY...
I love working with paint and the process of moving it around to make marks gives me enormous pleasure. My canvases or panels are the main supports but I also work with paper. These works become 'friends' and I keep them around me in my home.
For several years I worked with pure oils, then in 2015 I added cold wax to my oil palette which transformed the way I made my work. The oils and wax are smooth and luscious and when they are sculpted with knives, rollers and scrapers, wonderful effects happen. The painting emerges from making intuitive shapes and one shape can inspire the forming of another.
I aim for rich evocative surfaces made by the layers of oils and wax which bring a glow and depth to the painting. Some pieces are excavated in parts with scraping tools to reveal the under painting, then finished with glazes of transparent paint.
Early in 2023 I started a new series of paintings. I wanted to focus on abstraction but also a 'sense of place'. The 'place' might be an element of nature or even a place in my mind...drawing from personal feelings old and new before or during the painting process. The beauty of abstraction is letting a viewer into a world of imagination.

The work evolves over days, weeks or even years as I will often return to a piece to rework it. The process of destruction is part of making something new and creating a painting journey. I am not afraid to add my feelings to the canvas and some work can have a dark side.
'Behind every Shadow' below, is a painting reflecting on hurt and recovery. This piece is reserved for an exhibition in 2024,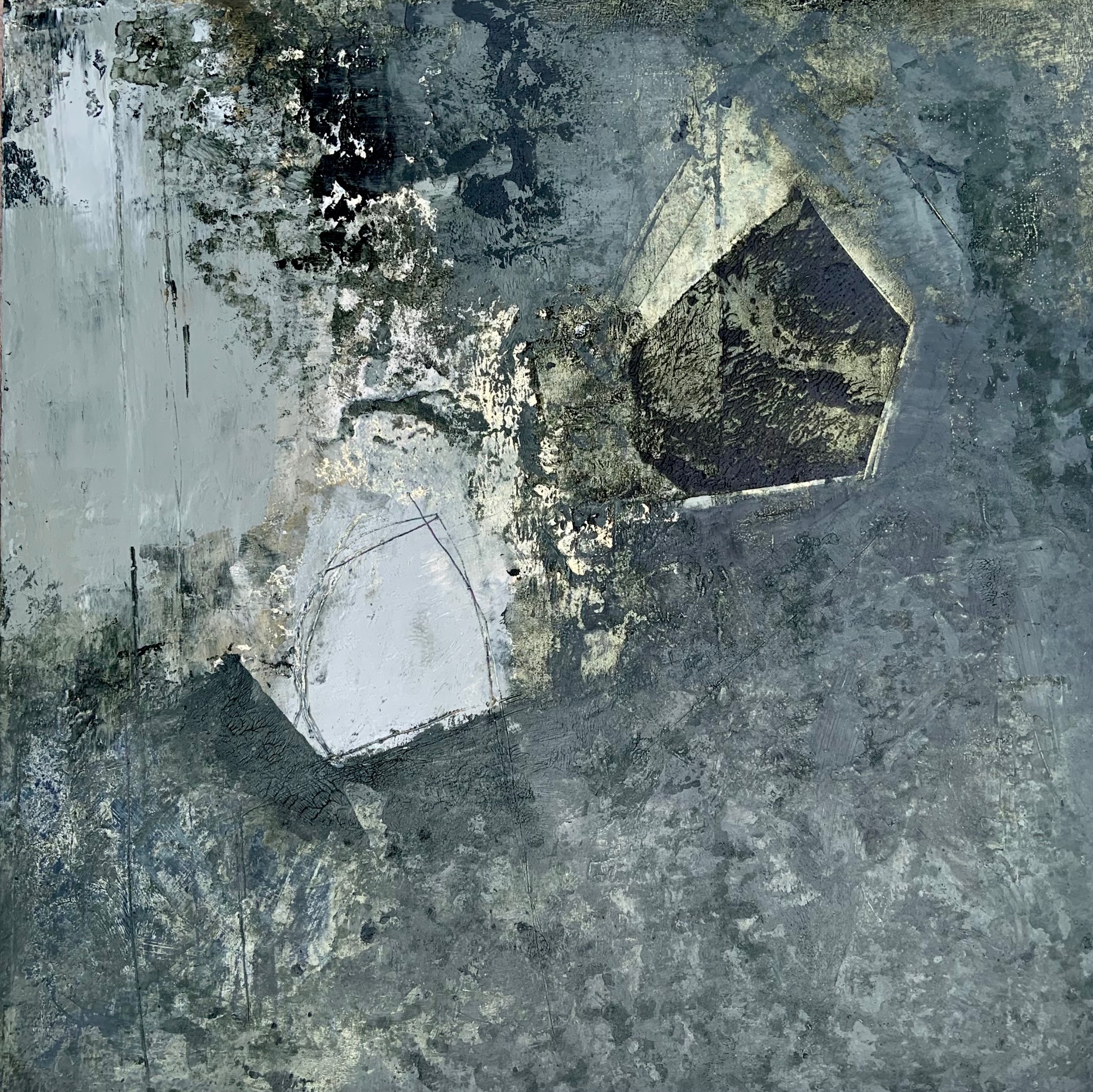 Colour is also influenced by what goes next to it as seen in the painting below...the somewhat muted background colours in this small piece happily mingle with the patch of pale grey/blue.
Many of my pieces are muted and dark... I like the sense of mystery.
'Imprint'
PAINTING COMPANIONS...

I found a mix of greys using the colours on the palette was a gentle companion to the lighter, brighter hues in this painting below. The larger area of blue/grey makes the small brighter hues of blue and yellow sing for attention and the buff/grey adds warmth to an otherwise cool work.
'Turquoise trails of timeless flow'
LETTING GO...
The work below was a struggle to resolve until I allowed it to go completely wild. Then it all came together and I accepted it for what it was. It reminds me of human interactions and differences.
'Aftermath'... no need to untangle, or sort into sense. Beauty lies in acceptance. This is a reworked 24x16 inch canvas from 2012. It moved away from being a clear cut narrative to fluid organic and then on to a feeling of destruction. Parts are layered, some removed, scraped and scratched. After two days the whole surface seemed wrecked but it had a sense of calm after a violent storm. Now it is finished and hangs in my Gallery.
'Inner voice' Oils and cold wax on 20 x 24 inch canvas
The light and shadow of experience. A piece about emotions and thoughtfulness.
''Abundance'...
Oils and cold wax medium on a 20 x 20 inch canvas.
Two all-over washes of Transparent orange oil and wax has transformed this painting into a blast of energy. The wash has subdued some background blues towards green and brought out the little fragments of cooling blue, sparkling under several layers of paint.
Bright and colourful, there is a feeling of joy.
SOLD
'Ascent'
This painting reached the summit of its journey after several reworkings. Oils and cold wax medium on a 24 x 36 inch box canvas.
I got a sense of perseverance and persistence in this piece. An attitude of not giving up until reaching the summit. Moving through the tangle of emotions.


The painting might continue. It is in the studio waiting.