Here are some of the 'happenings' over the years...little bits of an art journey.
🎨🎨🎨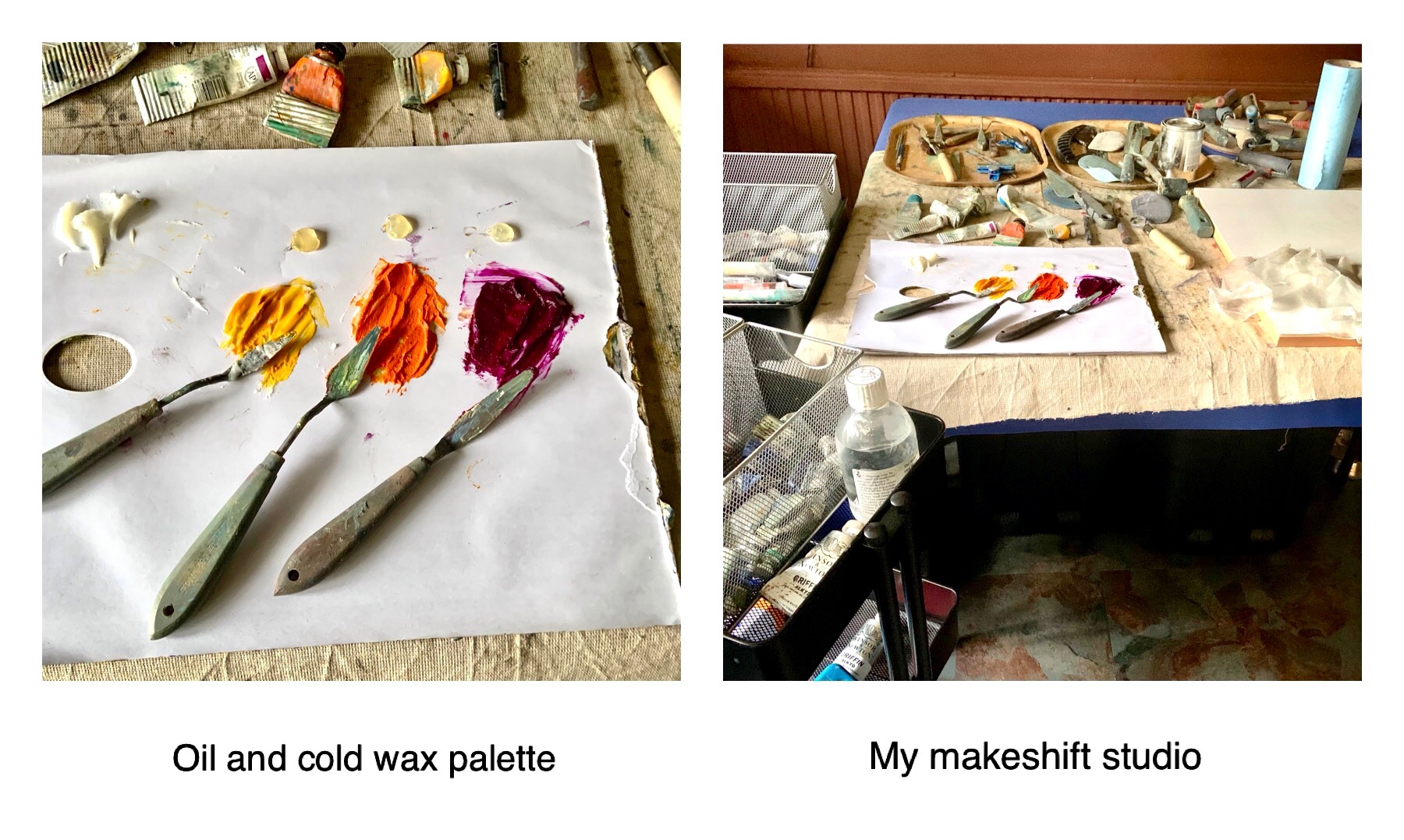 Still chilly outside so some painting will warm me up. You really don't need a posh studio…this is a corner of my kitchen. Anywhere will do. The secret is work…consistently keeping the art juices flowing. Even 30 minutes, working fast and furious will inspire more from your soul. Philosophical stuff? Maybe, but I find it happens. If I don't use it I lose it. Today I shall prepare a gessoed wood panel with a warm underpainting. I work with oils and cold wax. The colours on my palette are Indian yellow, Cadmium orange and Magenta. Some cold wax medium is mixed with each pile of paint and a blob of Galkyd gel will be added to speed drying. I shall roughly coat my panel with the paint, random scraping with the squeegee will make shapes and lines and suggest possible ideas. It's a spontaneous intuitive process. The painting changes along the way in an additive and subtractive motion. At this stage nothing becomes 'precious'. Destroying and covering up is part of the fun…and frustration. My paintings often go on a long journey. I let them rest and dry, often out of sight, sometimes upside down. Keeping several pieces on the go is useful. Moving on from one to another can often stop overworking. I have destroyed more paintings than I care to count but I count each failure as proof that I tried. I shall keep on trying.
🎨🎨🎨


Tuesday 24th January
The frosty weather is a good excuse to stay inside and paint. For two weeks I have been working on a new collection of oil paintings. Some are reworked canvases, others are completely new on cradled wood panels. It is getting near the Show season so I am considering which I can submit for possible selection. As usual, Galleries have rules about hanging and restrictions apply. A forthcoming Show in May needs lightweight pieces to hang from a picture hook so my heavier cradled panels are not suitable. Here are two oil paintings which might go forward for possible selection.
Above... 'Coastal Walking'
Below...'Discovery'
I like to have a collection of pieces which are harmonious together. These have a sense of landscape. They also have a similar style of float frame.


🎨🎨🎨

Friday 6th January 2023...A new year and a fresh start.
I am returning to my oil and cold wax painting and enjoying the chance to work again. It's too cold out in my garden studio so my kitchen has become a painting paradise. Two folding tables have made a 4x4 ft workspace. I began reworking some old canvases and really struggled to achieve much success. Fortunately I had some wood cradled panels and the difference was amazing. The smooth surface is perfect for moving the paint around. Below is a small 12 x 16 inch panel with an abstracted 'landscape'. I like the dramatic darks against a brighter green.
'Wild and free'
Oils and cold wax on panel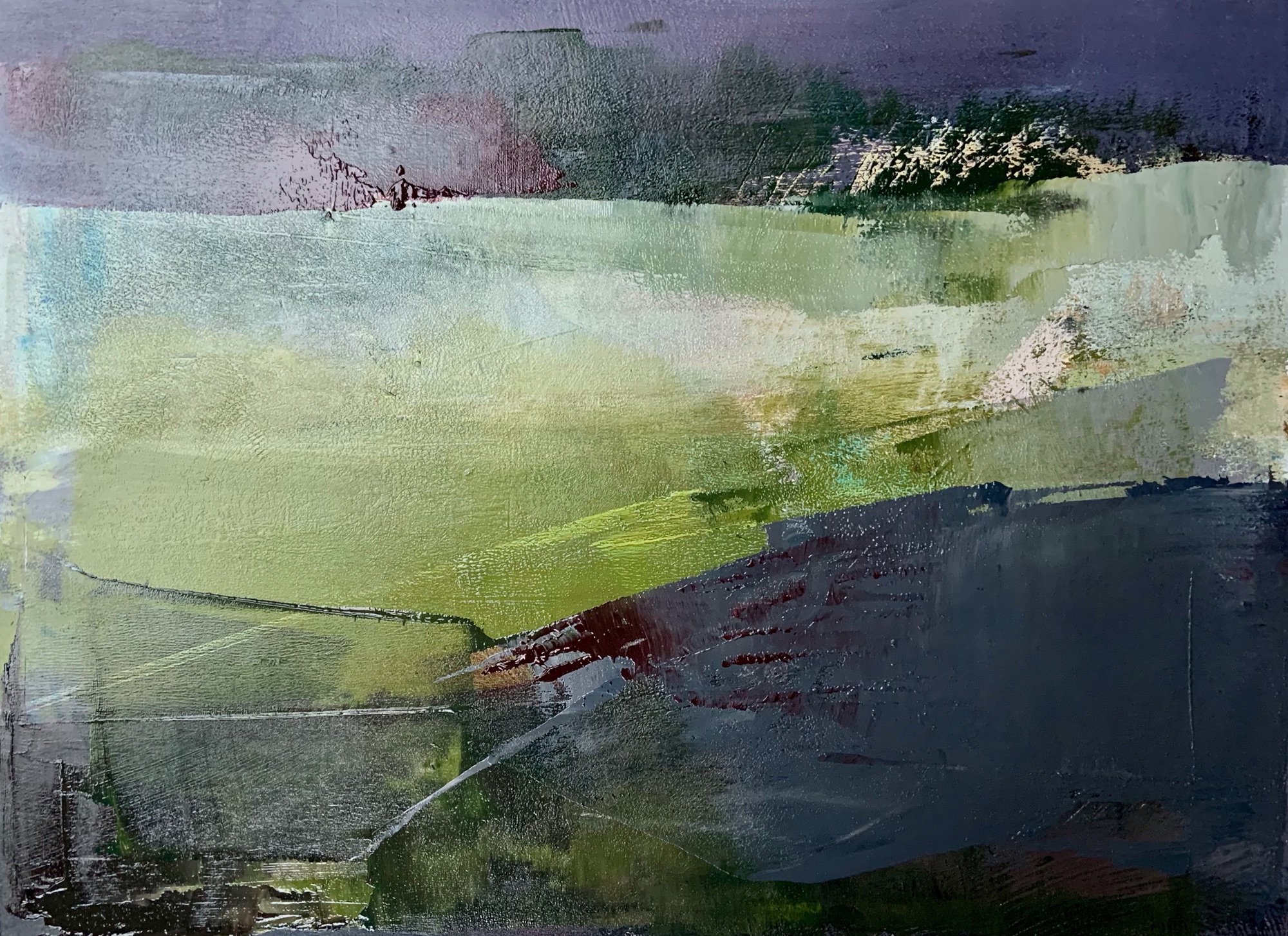 Friday 9th December 2022
IDEAS...
Make the best of what you have
Art isn't a 'fitting in' thing. No requisite to please others.
Total and utter freedom with bold steps without crowd pleasing.
Is making art self-indulgent ? NO. Art making is a practice of process to be oneself.
What is the next step I need to take?
A pause can make a giant difference…
Take a guilt free break…it's ok
It's important .
(Reference: From a podcast by Nicholas Wilton USA).
The painting above was made in 2019. It is oils and cold wax on canvas. In 2022 I reworked it and created something totally different. After three years I had felt the need to change it. The painting has now gone to a new home.
Taking a pause brought a fresh start. There is no-one to stop me from making changes or even destroying my work. The choice is mine. I paint to please myself.


Today I am playing with acrylic paint on small panels and paper. A little 'self-indulgence' in this chilly weather.
🎨🎨🎨


20th November 2022
MARK-MAKING...
'Make way'...
I think the teal stripe is giving the orders! After making my painting I wanted to add some teal colour...but instead of putting it on the palette I squeezed it on the paper and did a 'whoosh'. I love the way it stands out asserting it's presence. I used Golden acrylics on a 5 x 7 inches piece of Arches paper.
Painted late at night. I love these quick experimental sessions.

From a Blog post on 1st March 2020
Marks taking shape...
Above are two images of a painting in progress....
Random marks were applied loosely without thinking too much about a plan. I was aiming for some dark shapes next to light ones, some hard edges, areas of smudgy paint and a few scribbles and scratches. The canvas was turned around to get a different viewpoint. It was painted over three days to allow the paint to 'set up' a little before moving on.
My main concern was avoiding any tinkering as I wanted an abstract picture without reference to reality.
Here is the finished painting. I worked the canvas on the floor to get at the paint from all angles.
'Crossing Borders'
Oils and cold wax medium on
100 x 100 cm box canvas

BACK TO THE PAINTING TABLE...20th November 2022
Time for a quick painting session. Short and swift is the plan. Mission accomplished!
'The way of the Sea'
Acrylics on Arches paper
5.5 x 4 inches
The way of the Sea...this way and that, forever changing. Moving sand and shingle around the shore. Unharnessed and free. My quick acrylic painting is only a few marks, this way and that with Golden Acrylics and a one inch brush. Scribbles with a fine black pen to end the session. After a few weeks without painting it feels good to be back.

Good morning world.
A blog post from December 2015. I was using 5 x 7 inch canvas boards to make sea & landscapes. They were easy to ship and many went to homes in the USA. At the time I was a member of Daily Paintworks, an online gallery.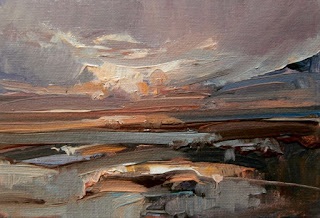 'Ebb Tide and Morning Sands'
Oils on canvas board 5 x 7 inches
Light in the sky, sea and land. Abstracted shapes in this tonal study.


My blog post entry..."I have found it often pays to place the paint and leave it without fussing. But pulling it down here and there with the brush to the bottom of the board gives this little piece an impression of standing water. Then a quick flourish with a loaded brush or knife creates the highlights and sparkle. A final tweak with a sharp edged angle brush lifts the beach highlight slightly and with a quick wiggle it drops down as I guide it to form a rivulet".


These mark-making gestures form my painting 'handwriting' and come naturally to me now. The loose, abstract nature of the work is intended to give an impression of place rather than a detailed realistic image. My landscapes are purely imaginative and created in my studio.
PAINTINGS...does size matter?
Recently I have made several small paintings in acrylics on paper and panel.
I have always felt that size doesn't matter when abstracting nature.
The loose effects of brushwork can give an impression of space even when the marks are on the small panels.
SMALL IS OK! 😀
'Interlude'
Acrylics on Ampersand panel
8 x 8 inches
The calm before the storm. Someone said it's reminiscent of a Norfolk beach. I grew up in Humberston, near Cleethorpes and my childhood memories are of the open beaches along the East coast.
Twenty years ago I discovered the paintings of Norfolk artist Edward Seago. His loose brushwork inspired me and his ability to make a few brush strokes say a lot without fuss was something I wanted in my own work.
Four little works on paper...
These acrylic pictures are very small, approximately 3x6 inches.
They are all part of a series of seascapes made into greetings cards.
Here is a quotation... "To thine own self be true, and it must follow, as the night the day, thou canst not then be false to any man." William Shakespeare
Am I true to myself? In my art I like to think so. I get to choose what and how I paint.
I do not (always) paint what others want.
This brings me to the subject of commissions.... I do not do them. Having done three I realised I didn't enjoy it.
'Element of Surprise'
Oils and cold wax on canvas
36 x 24 inches unframed
This is another favourite painting which hangs in my home. Painted around September 2018
Excerpt from my Blog post 'Making a start' January 2022
...Three little paintings on paper which will make greetings cards. Although abstract in appearance and design, they gave me a feeling of holidays by the sea. Reminiscent of the beach and waves. Just broad brush strokes and a few scribble marks with a pen nib for interest.
'Through the Wave & 'Beside the Seaside'
Two little Acrylics on paper
Greetings cards
I like the abstract shapes and colours in these two little paintings. My process was similar to working with oils and wax as I swept across the paper with random marks and scribbles. I think they have been sent as greetings cards now. Looking back at them has rekindled a desire to make more small abstracted paintings. I have made hundreds of little seascapes and landscapes on paper which are now mounted on greetings card and stored ready for Open Days.


This is the advantage of the Internet... I can surf around and find my old blogposts.
It's rather like having a journal to browse.
'Early Riser'
Acrylics on paper
6 x 4 inches
This excerpt is from my blog as the year was ending in 2019.
Little did I know how life would change as 2020 unfolded and we faced the Pandemic.

- Thoughts from Sara Genn, USA 2019.
"How does one predict the future of the unfolding force of one's life?"
Sara says..."My Quest only reveals herself to me when I pick up my brush. So I won't ask you about your plans for your work in 2020. Instead, I'll invite you to ponder with me some ideas for creative development, with a preference for behavioural tweaking:
- Experiment more. Try adding or omitting one stage in your existing process. Change your ground colour for two months.
- Cut your palette in half. Leave paintings 10% unfinished as a gift to yourself for the following day, with the idea that you'll decide if it's actually already finished, tomorrow.
- Stronger design. One neat area. Two mysterious areas. Three material areas — surface quality, edgemanship and brushwork, because you are making a painting".
Reference: Sara Genn, www.painterskeys.com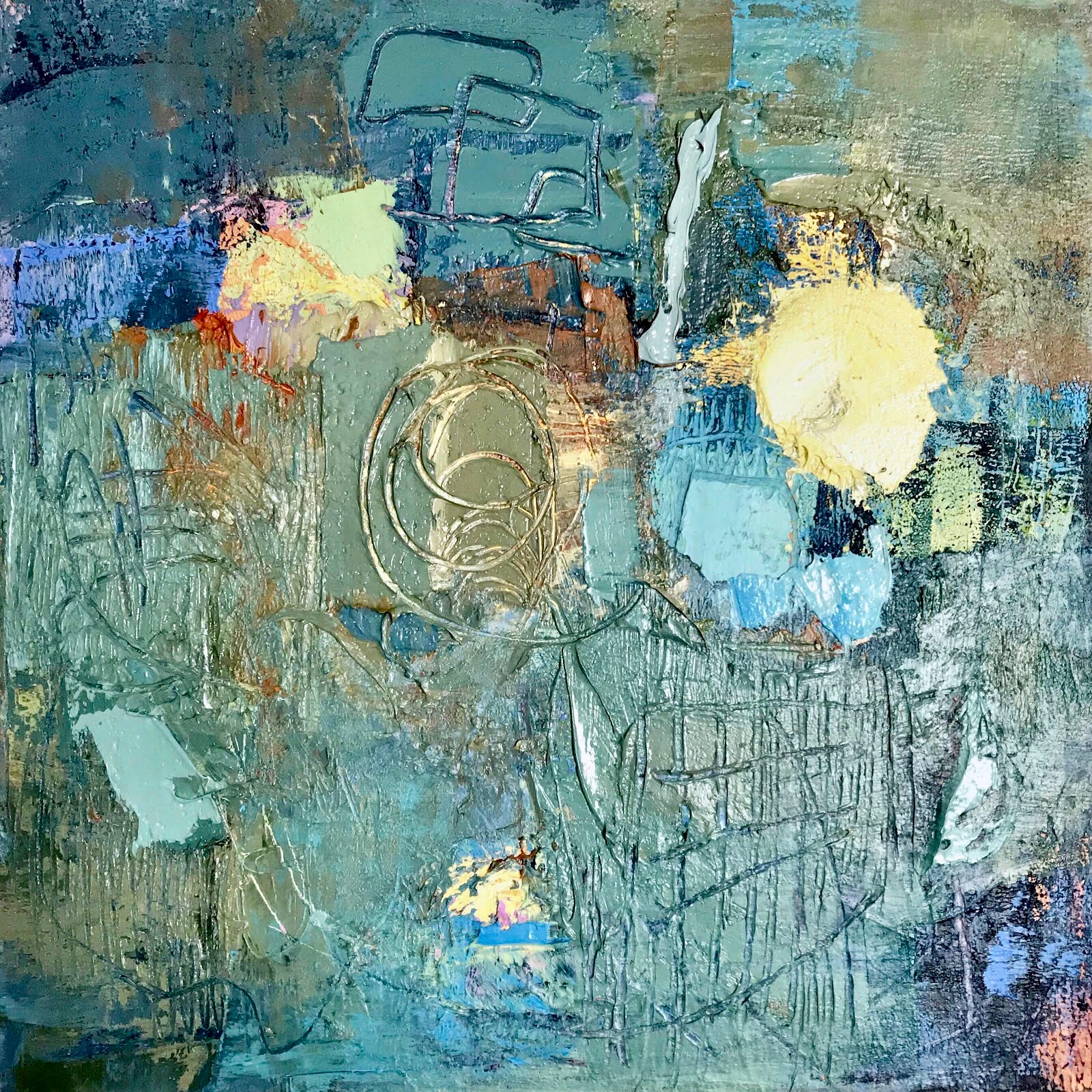 'Turquoise trails of Timeless Flow'
Oils and cold wax medium on canvas
20 x 20 inches framed
A favourite painting from around 2018 which hangs in my home.


MORE MUSINGS TO COME...
NEWER ONES AT THE TOP 🎨🎨🎨